Free Dorset Attractions
Suggestions for this page are welcome via feedback page.
If you have see the leaflet Best of Dorset Attractions or looked at the web page www.dorsetattractions.com you may, like me, have been irritated to see that it consists entirely of advertisements for paying 'entertainments'. Here instead is my list of best places to go in Dorset (and nearby Hampshire) which are free or nearly so - especially suitable for OAPs and young families.
BEACHES (Still free - although the parking is a bit exorbitant in places). My favourites include Sandbanks - especially near to the Ferry; South Beach, Studland, and Osmington Mills.
Lulworth and Chesil Beach, of course are incredibly scenic but stony &/or unsafe for bathing. In West Dorset Lyme Regis beach offers a free fossil-hunting experience.
TOWN PARKS Poole Park - still perhaps the best formal park in the county - although a little heavy on paying 'attractions' like boating, the railway and cafes. You can also start at Bournemouth Pier and walk up alongside the Bourne Stream through attractive parks.
COUNTRY PARKS The Moors Valley Country Park (near Verwood) is probably best for kids (lots of climbing, narrow guage railway etc.); Durlston Country Park near Swanage is the most spectacular for scenery, whilst Upton Country Park (Poole) is quietly attractive (don't miss the walled garden and the bird hide).
COUNTRY WALKS Buy some Ordnance Survey maps, stick a pin in at random, and design a circular walk along the Right of Way footpaths - you can't go wrong in Dorset or the New Forest. Otherwise you can consult the Rambler's website or any of the many books of Pub Walks available.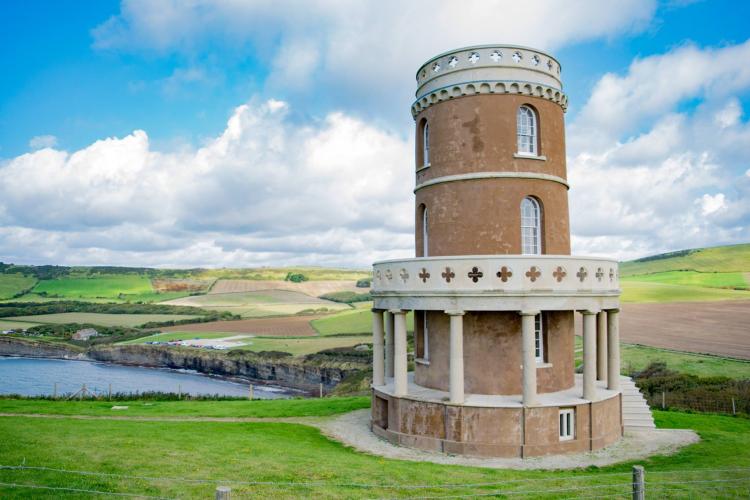 The Clavell Tower, Kimmeridge Bay, Photo by Chris Tansey
SOUTH WEST COAST PATH Wow! You can normally walk the entire length of the World Heritage Jurassic Coast. Read up on the geology first for maximum benefit. Just now there are some diversions in operation because of cliff falls.
WILDLIFE The RSPB's reserve at Arne competes with the Dorset Wildlife Trust's Reserve on Brownsea in my mind as my personal favourite place not only for birds, but also for deer and other wildlife. (Unfortunately admission and ferry costs mount up if you are not a National Trust member for Brownsea). But there are lots more Dorset Wildlife Trust reserves well worth visiting. For families who want to be sure of seeing deer the Forestry Commission's Bolderwood Deer Sanctuary is your best bet.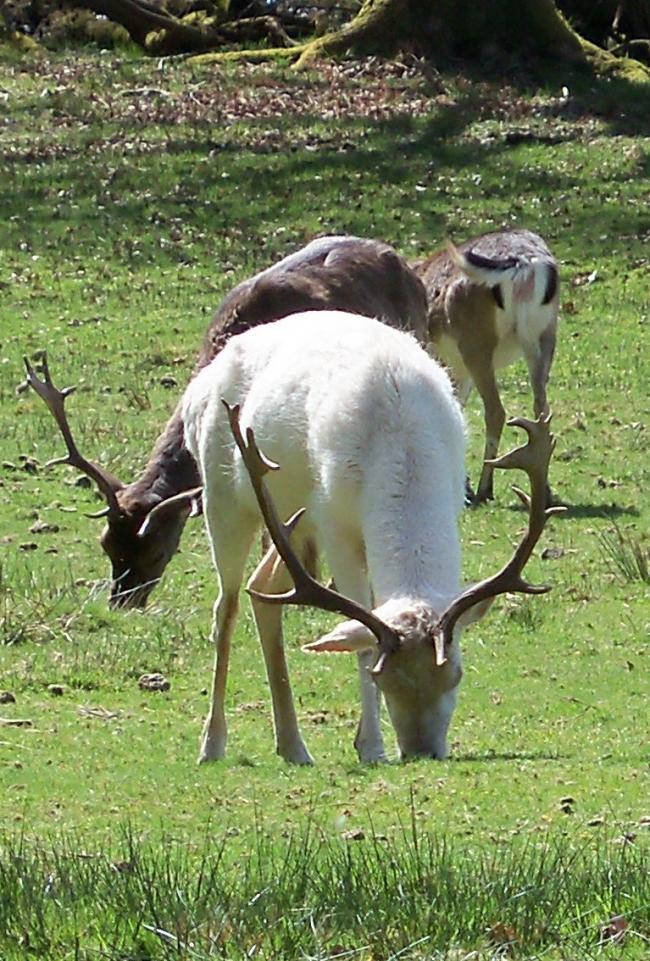 Another less well-known Forestry Commission site of interest (especially to youngsters) is the New Forest Reptile Centre.
ARCHAEOLOGY The best known and most impressive archeological site in Dorset (which should not be missed) is Maiden Castle near Dorchester. Another scenic iron age fort (alleged by some to be the site of a crucial battle fought by King Arthur) is Badbury Rings. Less easy to see but very impressive in scale is the Dorset Cursus near to the ruins of Knowlton Church, itself set in a prehistoric Henge monument. (Good for blackberrying in season.)
CHURCHES The two most impressive churches are the beautiful Sherborne Abbey (which was a cathedral from 705 -1075) and Wimborne Minster (with its fascinating chained library). But there are a host of smaller churches well worth visiting such as the parish churches of Moreton (modern engraved windows), Bere Regis (associated with Hardy's Return of the Native ) and the tiny chapel at Anderson (illustrated below).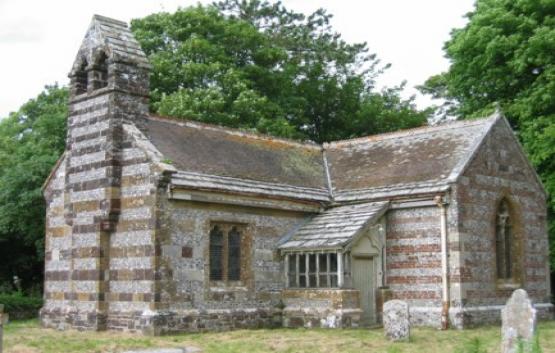 Photo Copyright Peter Walker
GARDENS A small free hidden gem is Bournemouth's Tropical Garden (next to Durley Chine, Westbourne). The walled garden at Upton Park, Poole has also been mentioned already. Many idyllic gardens open occasionally throughout the year at limited cost with the proceeds going to charity through the National Gardens Scheme.
THE ARTS Many Artists live and work in Dorset and you can often visit them in their studios or see their work in many galleries and museums in the county (See the Dorset Visual Arts website at any time of the year). The annual Dorset Arts Week is great opportunity to visit studios. . One neglected free attraction is the free Tout Quarry Sculpture Park in Portland (which combines a magnificent view over Chesil Beach). Not free but well worthwhile are the concerts by the Bournemouth Symphony Orchestra at the Poole Lighthouse and the annual Shakepeare performances on Brownsea Island.
TOWNSCAPES Historic towns such as Dorchester, Poole, Shaftesbury, Blandford, Sherborne and Poole are each well worth a day-trip. Consult local Tourist Information Centres for details.
BUS TRIPS / CAR RIDES Exploring the rural countryside this way is getting more expensive - but some of us still have OAP bus passes (possibly until the next election). Bus trips such as the Breezer: Bournemouth / Swanage / Poole / Bournemouth (Wilts & Dorset / More 50 / 40 / M1 or 2); Bournemouth to Salisbury (X3) or Jurassic Coast Service (X53) Poole to Exeter.
VILLAGES Any number of quaint and beautiful villages in Dorset are worth a visit. One of my favourites is Cerne Abbas: everyone has heard of the Cerne Giant - but don't miss the village, the church and the remains of Cerne Abbey - including the well which was a medieval place of pilgrimage and retains a quiet charm. My own village of Sturminster Marshall has a Maypole, Stocks, many listed buildings and the delightful Walnut Tree Field by the River Stour.
Dorset Visitor Attractions
10 Links
South West Coast Path
This superb and free major attraction in Dorset starts at the Sandbanks ferry Poole.
Ramblers
For ideas for walks all over Dorset and beyond
National Gardens Scheme
You can search this site for gardens open within a given period and near your postal code. Many in Dorset.
Dorset Churches
Peter Walker's listing of C of E churches in Dorset with photographs and information sources.
Upton Country Park
Near Poole, walled garden, art gallery, harbour-side wildlife hide, Upton House.
Maiden Castle
The most impressive pre-historic remains in Dorset. Other properties in care of English Heritage can be found on this site.
Badbury Rings
One of Dorset's many hill-forts -this is in the care of the National Trust. A good place to fly kites!
Dorset Cursus
Excellent description of the Dorset Cursus from the digital digging Site
More Dorset Attractions
7 Links
Portland Eden
Exciting forthcoming attraction (alright - almost certainly not free!). One of Portland's underground stone quarries is to be converted into scientific and artistic exploration of the ecological crisis. Sponsored by the Eden Project.
Jurassic Coast Bus Service
Links to timetables for great rides along the coast. Rest of site has much information on the world heritage coast.
Dorset Visual Arts
Many artists studios are open not only during Dorset Art Weeks (late May early June)but all year round. This site has a great directory of artists, galleries etc.
Dorset By Night Photographs
For a very different view of Dorset,see Stephen Banks' brilliant video essay on Dorset By Night. His web site also has some great day-time photographs of Dorset.